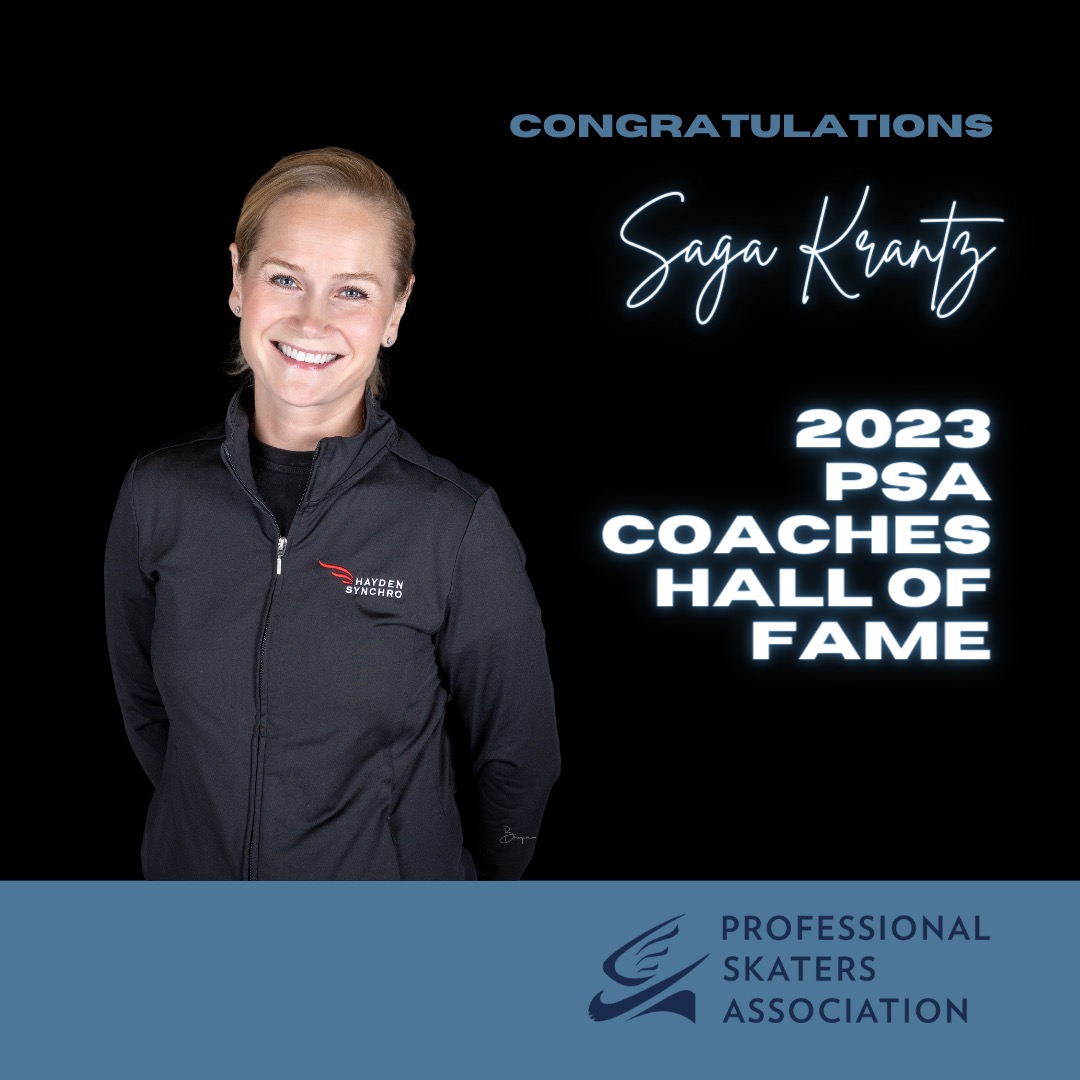 SAGA KRANTZ INDUCTED INTO PSA COACHES HALL OF FAME
Lake Buena Vista, FL: Last evening, the Professional Skating Association (PSA) inducted Saga Krantz into the PSA Coaches Hall of Fame along with Todd Sands and Jenni Meno Sands. 
Gail Hanson-Mayer, President of Hayden Synchronized Skating Teams, is thrilled Krantz has been recognized. "I am very happy for Saga. This is a prestigious honor which recognizes her outstanding accomplishments as a coach. Saga has coached our Haydenettes since 2005. Under her tireless leadership, the Haydenettes have each year earned the Team USA designation and competed at every World Championship (eighteen to date), an accomplishment that no other coach has achieved."
An internationally acclaimed synchronized skating coach and choreographer, and World Championship silver medalist from Finland, Saga Krantz took the helm when Lynn Benson retired in 2005. In addition to eighteen times representing Team USA, Saga Krantz has also coached the Haydenettes when they secured the World Championship bronze medal five times from 2010 through 2013 and in 2016. 
Remaining true to her core values – excellence, integrity, passion, leadership, creativity — Krantz has created exceptional choreography and coached our most elite skaters to reflect the careful development of each individual skater and the focused precision of the whole team. Earning seven of the thirteen PSA Best Performance Awards to date (beginning in 2010 for synchronized skating), Krantz' choreography has been praised for performance, artistry, balance, originality, drama/emotion, music, costuming, and technical ability.

About Hayden Synchronized Skating Teams: Representing the Skating Club of Boston Hayden Recreation Center Figure Skating Club in Lexington, MA, Hayden Synchronized Skating Teams, Inc. (Hayden Synchro) has nearly 180 athletes skating on 8 teams, ranging from beginner through senior level. Since its inception in 1979, Hayden Synchro has remained deeply committed to advancing the sport of Synchronized Skating by developing a strong cohort of younger skating athletes aspiring to rise through the ranks of the sport. The success of the coaching staff and training program can best be measured by the annual success of the teams, including the senior level team, the Haydenettes, which have earned the gold national title and the Team USA designation for 30 years. Their tagline is "strength and beauty in motion." Go to haydensynchro.com for more information about the teams.