It's A Go!
We are excited to announce that we will be holding our Haydenettes Junior Elite Camp 2021 in June!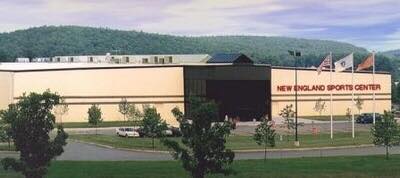 At this time, our Junior Elite Camp is full. In the event of a cancellation, we will use the waitlist to fill any open spots.
Download Junior Elite Camp 2021 Forms A and B here. 
Camp With A Few Changes
We have been working hard to re-envision our popular Junior Elite Camp to provide the experience and fun of the past, with a few changes geared towards guarding everyone's health and safety. Junior Elite Camp 2021 is designed as a day camp for skaters ages 7 - 16 years old who have previous synchronized skating experience. Camp will include in-person sessions at the New England Sports Center in Marlborough, MA, June 25-27 with additional, pre-camp virtual sessions held June 18-19. Skaters will be organized by age and ability into three groups with no more than 28 skaters per group or on ice at a time. During the 10.5 hours of on-ice time, focus will be placed on individual skills only. There will be no skate elements or connected skating at this camp. Guest coach, former Olympian Suzy Semanick-Schurman, will join Haydenettes Head Coach, Saga Krantz, and Lexettes Head Coach, Lee Chandler, to lead the camp. Haydenettes Team USA athletes and choreographer Adam Blake will round out the camp staff. Camp will be a "day" format with check in and out times each day with no overnight experience.
Exact times and schedules will be announced after registration.
Pre-Camp VIRTUAL sessions. Each session will last 1-1.5 hours.
Friday, June 18th: Evening panel discussion with coaches, skaters and guest officials
Saturday, June 19th: Morning fitness class
Saturday, June 19th: Afternoon stretching class
Camp IN-PERSON sessions at New England Sports Center, Marlborough, MA. 
Check-in and out will be at the rink for each session (NO overnight stays as part of camp.)
Friday, June 25th: 4:40 PM - 8:00 PM
Saturday, June 26th: 8:40 AM - 6:30 PM
Sunday, June 27th: 11:10 AM - 2:20 PM
Lunch and snacks will be provided on Saturday and Sunday. 
Junior Elite Camp fees include both the pre-camp virtual and camp in-person sessions.
Junior Elite Camp Early Registration Fee: $560
Junior Elite Camp Registration Fee, after May 1st: $600
Camp Registration will close on May 15th or sooner if enrollment limit is met.
Cancellation Policy: Camp registration fee is non-refundable. The only exception to the cancellation policy is if state of Massachusetts guidelines change and prohibit the camp from being held. If we are unable to hold camp, refunds will be issued.
What's Not Included:
-Different from prior years, there will be no hotel stays as part of the camp
-No breakfasts or dinners will be provided
-No transportation of any kind will be provided, including no buses to/from a hotel to the rink
COVID Concerns:
-All skaters and staff will be required to wear a face covering during camp, except when eating
-All Massachusetts COVID guidelines as well NESC Rink rules will be followed
-Skaters from out of state are welcome to attend camp but are expected to follow current Massachusetts state guidelines regarding COVID testing and quarantining for entry and exit
Frequently Asked Questions:
Q: I'd like to make a hotel reservation, do you have hotel recommendations?
A: Overnight hotel accommodations are not included in camp this year. If you'd like to make a reservation, we recommend: 
Hampton Inn, 277 Boston Post Road W, Marlborough, MA (approx. 3.4 miles)
Courtyard Marriott, 75 Felton St, Marlborough, MA (appox. 2 miles)
Residence Inn, 112 Donald Lynch Blvd, Marlborough, MA (walking distance)
Hilton Garden Inn, 170 Forest St, Marlborough, MA (approx. 4 miles)
Q: Is there a skills requirement to be eligible to attend camp this year?
A: No, there is no skill requirement this year. Camp is open to skaters ages 7-16 who have some form of synchronized skating experience
Q: If there is no skill requirement for camp, do I still need to send copies of my skater's test levels?
A: Yes. Please send your skater's test records that show the highest level of tests passed for Moves-In-The-Field, Freestyle and Dance. We will be using this information to organize skaters into leveled groups at camp. If your skater has plans to test between now and the start of camp, you may email us any testing updates at camp@haydensynchro.com.
Q: What will the on ice program look like for this camp?
A: Each one of the on ice sessions will focus on improving individual skating technique in the following areas: Sureness of balance on the blade through multi-directional skating, varied use of power and speed, Strength and control through body positions and aesthetic look. Coaching staff includes experienced World/Olympic level coaches. Reminder: There will be no connected skating at the camp.
Q: I have a skater that has attended Junior Elite Camp in the past. How will this year's program compare in terms of skills and intensity?
A: We don't anticipate any changes to the skill or intensity of our on-ice and off-ice programs. Our goal is to run the camp as normal while implementing appropriate Covid protocols. 
Q: I understand that skaters will be grouped by ability at camp. What are you anticipating the skill range being in each group?
A: We welcome all levels but plan to group skaters together as close as possible to their test level to keep things safe and fun for everyone. The final groups will be decided after registration closes.
Hayden Synchronized Skating Contact: Gail Hanson-Mayer, email: camp@haydensynchro.com